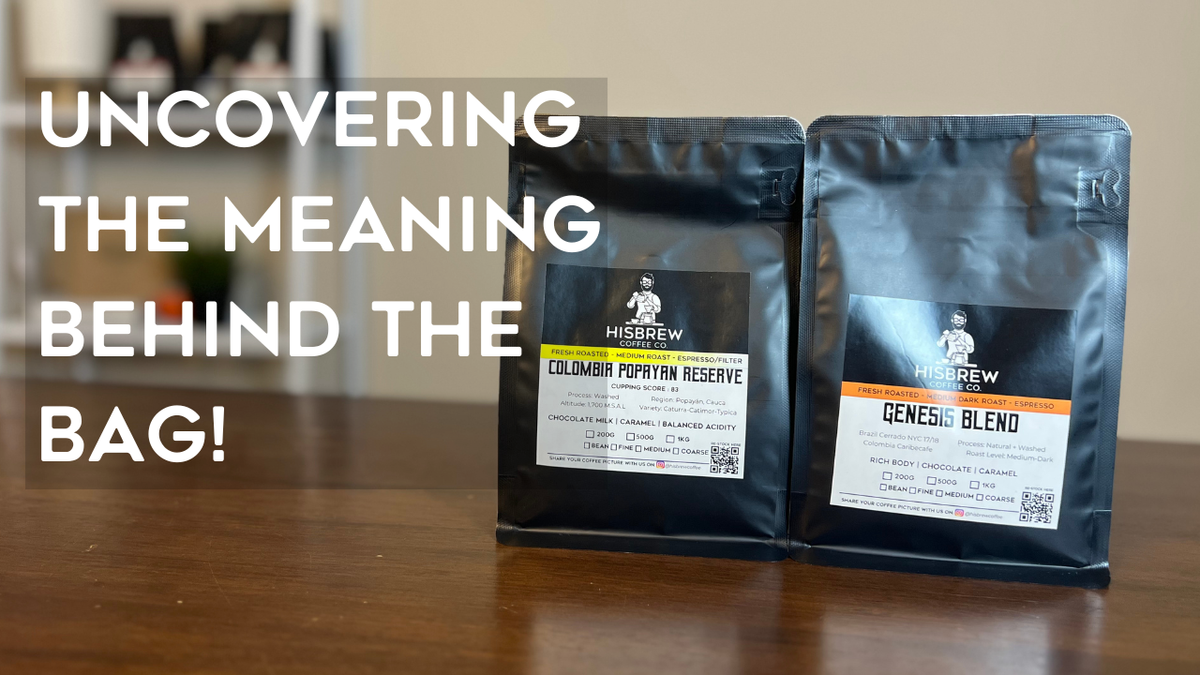 Specialty coffee bean bags can be filled with a lot of information, from the roast level to the origin, tasting notes, processing method, and certifications. It can be overwhelming for someone who is not familiar with the terminology. But fear not, this guide will help you navigate the specialty coffee bean bag and choose a coffee that suits your taste preferences.
Roast Level
The roast level can affect the taste and aroma of the coffee, so it's important to know if it's light, medium, or dark roast.
-Light roast coffee has a lighter body and more acidic, fruity flavors
-Dark roast coffee has a fuller body and a more pronounced roasty flavor.
-Medium-roast coffee falls somewhere in between.
This information is usually displayed prominently on the bag, so you can quickly and easily determine the roast level.
Origin
The origin of the coffee bean can tell you a lot about the flavor profile of the coffee. Different regions produce different flavors, so knowing the origin can give you an idea of what to expect. For example, African coffees tend to have bright, fruity flavors, while South American coffees tend to have chocolatey, nutty flavors. The country of origin may also be broken down further into specific regions or even single farms, which can provide even more information about the coffee.
Tasting Notes
Some coffee bags may include tasting notes, which describe the flavors and aromas you can expect from the coffee. These notes can be helpful in determining if the coffee is right for you. For example, coffee may be described as having notes of blueberry, caramel, and dark chocolate. Keep in mind that tasting notes are subjective and may vary from person to person, but they can provide a general idea of what to expect from the coffee.
Typically, coffee roasters would use the flavor wheels as seen below for the descriptors of their coffee-tasting notes.
Processing Method
The processing method used to produce the coffee can also affect the taste and aroma. Some common processing methods include washed, natural, and honey. Washed coffees tend to have a cleaner, brighter flavor profile, while natural coffees have a fruitier, sweeter flavor. Honey process coffees fall somewhere in between, with a mix of sweetness and acidity. Knowing the processing method can help you choose a coffee that suits your taste preferences.
Roast Date
Coffee beans have a limited shelf life, and the flavor and aroma can deteriorate over time. Knowing the roast date can give you an idea of how fresh the coffee is. Ideally, you want to choose a coffee that has been roasted within the past 2-4 weeks. If the roast date is not listed, you may want to choose a different coffee or contact the roaster to inquire about the roast date.
In conclusion, by understanding these key pieces of information, you can better navigate the specialty coffee bean bag and choose a coffee that suits your taste preferences. Whether you prefer a light, fruity coffee from Africa or a dark, roasty coffee from South America, there is a specialty coffee out there for everyone.

We've also made a helpful video guide on explaining the coffee bag label secrets here below:
---
Related products