Brazil Fazenda Pinhal - Natural (Espresso) | Coffee Bean | Medium Roast
Product Description
Cupping Score: 84.5

100% Arabica & No Artificial flavoring
Roast Level: Medium Roast
Tasting Notes: Ripe red berries, milk chocolate, red apple sweetness and rounded body
Process Method: Natural
Varietal: Topazio, Arrara, Catucai, Bourbon

Altitude: 1050 - 1100 masl
Region: Mantiqueira De Minas, Minas Gerais, Brazil
Fazenda Pinhal, a sprawling 914-hectare estate located near San Antonio De Ampoaro in Sul De Minas, is under the ownership of the Gabarra Teixeria family, who acquired the property in 1994. While only 33% of the land is dedicated to coffee cultivation, the remainder is intentionally preserved as a natural reserve with crops such as Eucalyptus. The Gabarra Teixeria family oversees a collective expanse of 1000 hectares across four interconnected farms, with 500 hectares specifically allocated to coffee production.
The coffee from Fazenda Pinhal undergoes a meticulous mixed variety natural process. Selective mechanical picking is employed to harvest the cherries, which are subsequently floated to eliminate light and underripe beans. Following this, the cherries are placed in static boxes for an 8-day period. On the fourth day of this process, the coffee is thoroughly mixed to ensure uniform drying. Subsequently, it spends 60 days in wooden silos before being meticulously prepared for shipment. This careful and deliberate approach to cultivation and processing contributes to the distinctive character of the coffee produced at Fazenda Pinhal.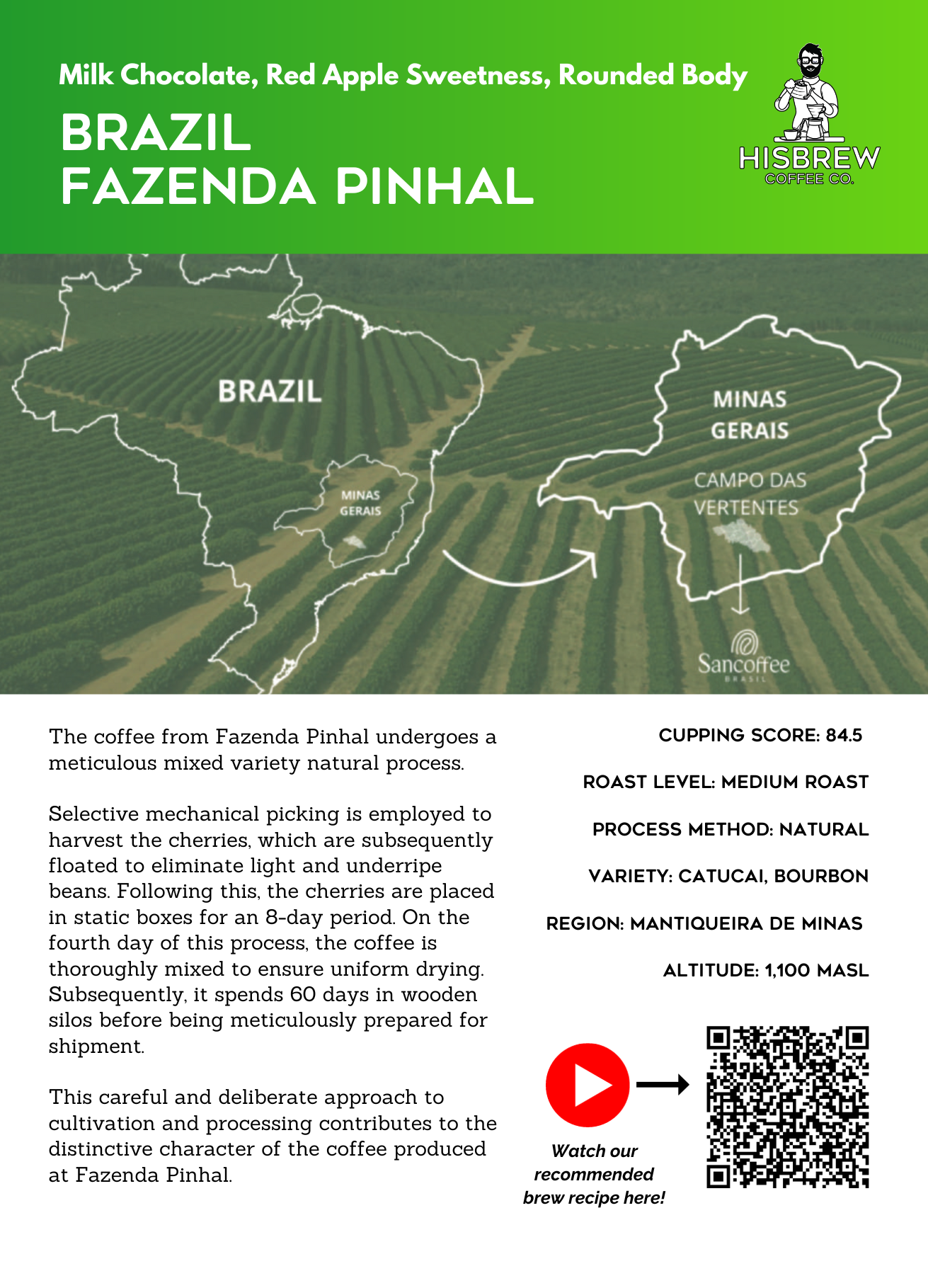 Grind Size
Ground (FINE): Moka pot
Ground (Medium): V60 Filter, Aeropress, Chemex, drip coffee
Ground (Coarse): French Press/Cold Brew
Are your beans fresh?
We roast our coffee,
- Daily
- Guaranteed to be shipped out to you within 14 days from the roast date
- Our customers are our pride and joy, and we value you, so let us know if you have any questions.


Worried about HALAL-certified?
Although we currently are not officially Halal-Certified, rest assured we do not add any product to our beans to make them un-halal. Our beans are all appropriately stored.