Midnight Shadow Espresso Coffee Bean | Dark Roast 100% Arabica
Product Description
100% Arabica & No artificial flavoring
Tasting Notes: bittersweet chocolate | honey sweetness | cacao
full-bodied, low acidity, and long finish
Blend Composition:
Guatemala Huehuetenango G1
El Salvador SHG EP Cuzcachapa
Brazil Mogiana Fine Cup NY17/18


Say hello to Midnight Shadow, the coffee blend that's about to become your new best friend in the morning. We've handpicked the finest beans from Guatemala, El Salvador, and Brazil to create a bold and comforting cup that'll make you feel right at home.
Think of indulging in rich bittersweet chocolate, a touch of honey sweetness, and that comforting cacao flavor that fills you up just right. And the best part? It's not too sharp on the taste buds, so you can enjoy it without any puckering. Plus, the aftertaste? It's like a warm hug that lingers just a little longer.
Our team has put their heart and soul into roasting these beans to perfection, so you can experience that perfect, satisfying sip every single time. Embrace the shadows and let Midnight Shadow be that reliable, flavorful companion that's always there to brighten up your day.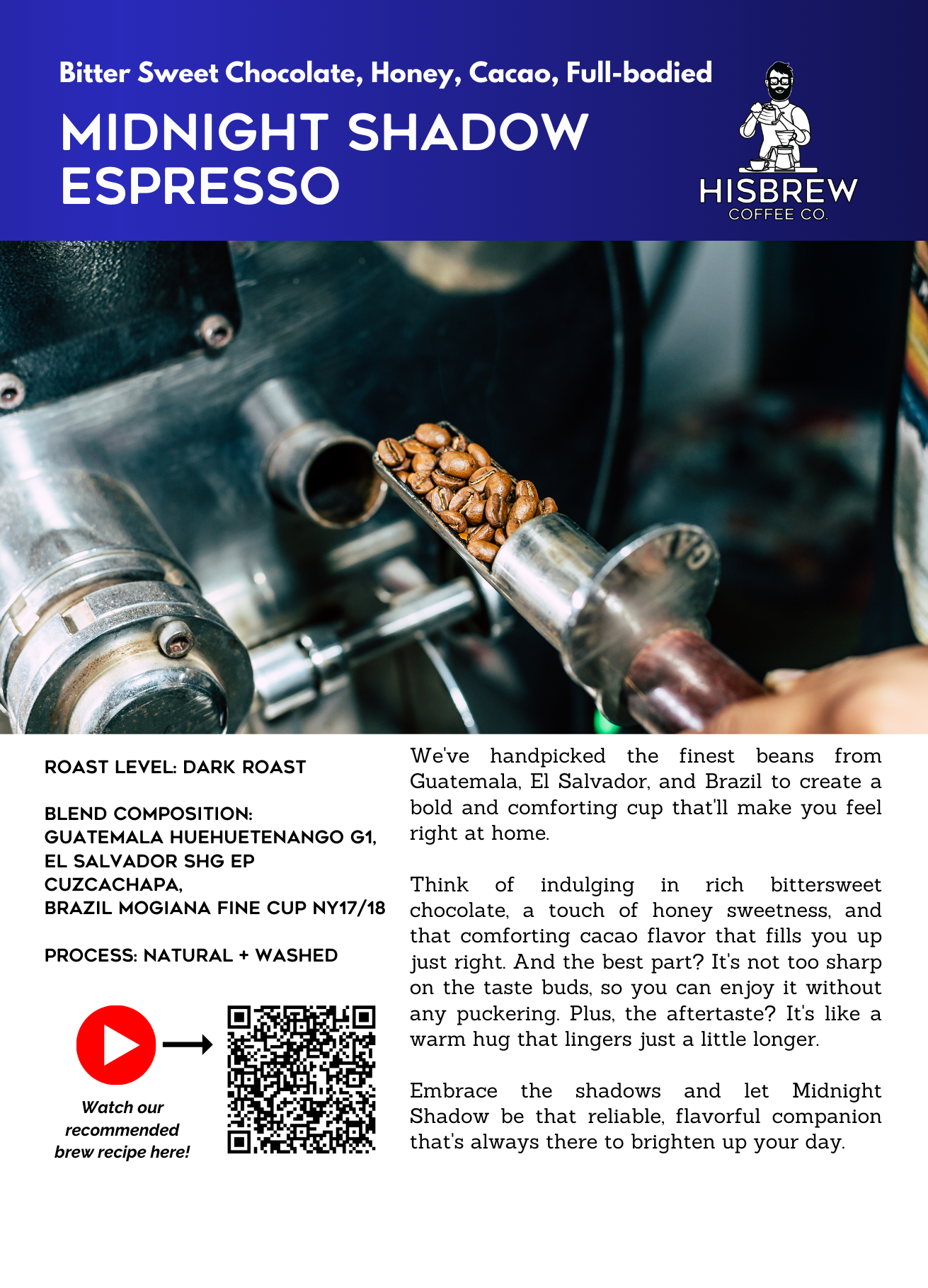 Ground Size
Ground (FINE): Moka pot
Ground (Medium): V60 Filter, Aeropress, Chemex, drip coffee
Ground (Coarse): French Press/Cold Brew
Are your beans fresh?
We roast our coffee,
- Daily
- Guaranteed to be shipped out to you within 14 days from the roast date
- Our customers are our pride and joy, we value you, so let us know if you have any questions.


Worried about HALAL-certified?
Although we currently are not officially Halal-Certified, rest assured we do not add any product to our beans to make them un-halal. Our beans are all stored properly.


Wholesale Pricing
For wholesale pricing please dm us.
We typically offer anywhere from 10% - 35% discount in wholesale pricing.