Rwanda Gitega Hills Lot 140 - Washed | Coffee Bean | Medium Roast
Product Description
Cupping Score: 87.5

100% Arabica & No Artificial flavoring
Roast Level: Medium Roast
Tasting Notes: Nectarine, Red Berries, Black Tea
Process Method: Washed
Variety: Red Bourbon
Region: Gitega Hills
Gitega Hills, situated in Cyanika near Miko, is more than just a washing station. Established in 2016 by RTC and managed by Alex, it covers around six hectares and employs 150 locals, with a strong focus on empowering women. The station gathers cherries from 1040 farmers located within 7 km, offering them organic EM2 compost made from recycled cherry pulp and animal manure.
Bourbon, a significant C. arabica variety, has a rich history tracing back to its origins in Ethiopia. With its high-quality yield in mountainous regions, it has become one of the main sources for cultivating new coffee varieties, alongside Typica. Initially cultivated in Yemen, Bourbon found its way to Réunion (formerly Bourbon Island) and later spread to Africa and Latin America by the French.

Brew Guide: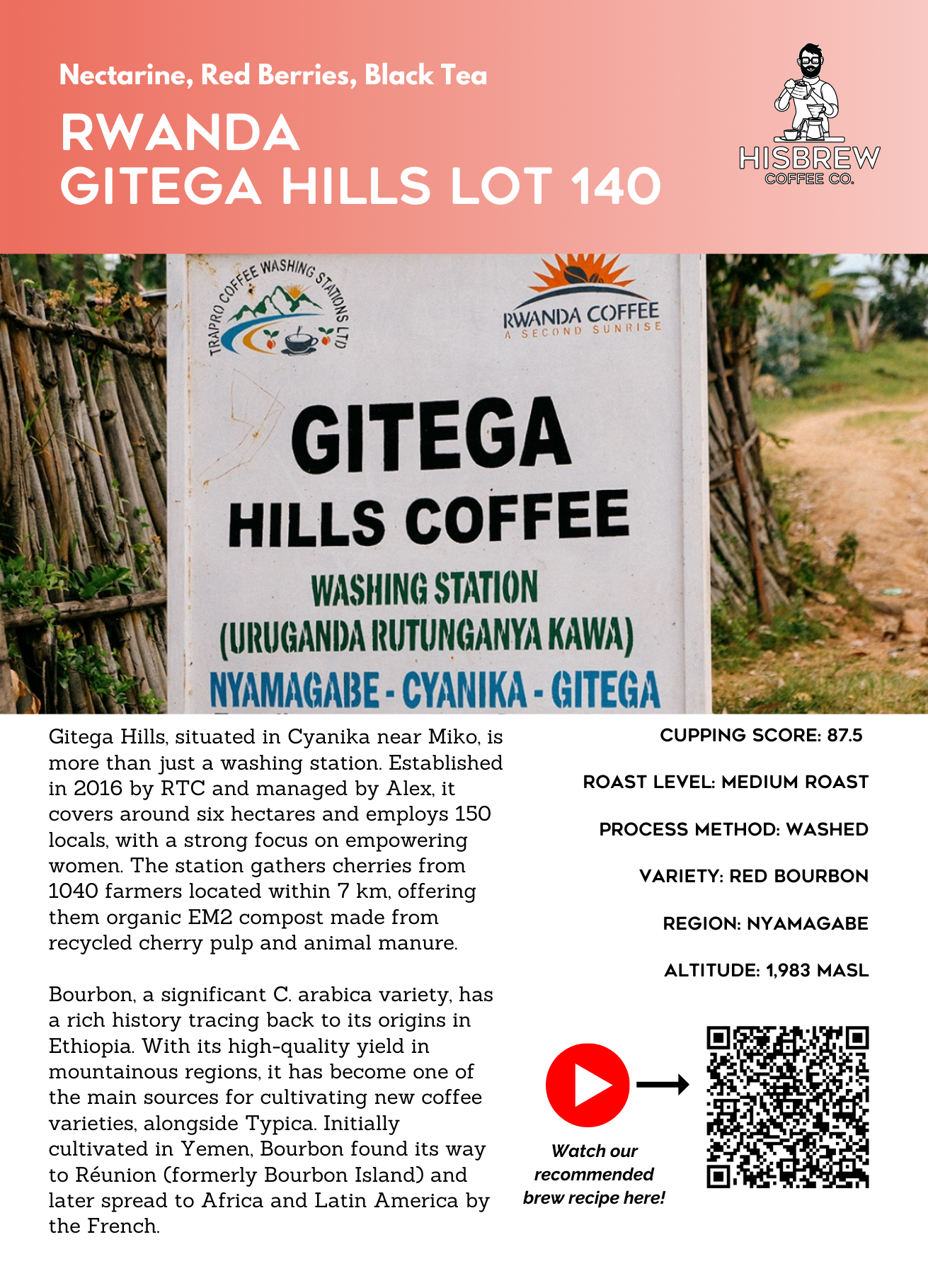 Grind Size
Ground (FINE): Moka pot
Ground (Medium): V60 Filter, Aeropress, Chemex, drip coffee
Ground (Coarse): French Press/Cold Brew
Are your beans fresh?
We roast our coffee,
- Daily
- Guaranteed to be shipped out to you within 14 days from the roast date
- Our customers are our pride and joy, and we value you, so let us know if you have any questions.


Worried about HALAL-certified?
Although we currently are not officially Halal-Certified, rest assured we do not add any product to our beans to make them un-halal. Our beans are all appropriately stored.